Volkswagen Touran Service Manual: Fender Corrosion Repair Measures, in Wheel Housing Liner Contact Area

Note
The corrosion protection in the fender seam must be applied on all replacement parts, on which the attached seal is not already present.
The additional corrosion protection seal will prevent "chafe marks" in the fender wheel housing liner.
| | |
| --- | --- |
| | Apply filler to the interior and exterior areas of the fender. |
| | |
| --- | --- |
| | Once the filler has dried, apply and spread the Sealing Material -D 511 500 A2- in the wheel housing liner contact area (fender seam). |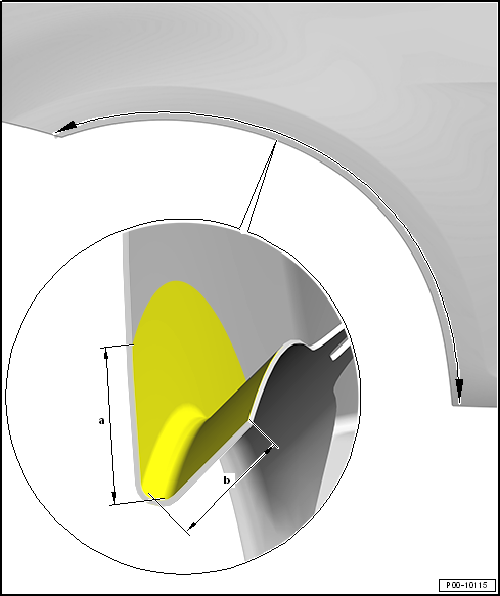 Note
The dimension -b- can vary, because the fender has different folded edge widths. Note that the entire folded edge is always sealed.
Before installing, the inner sides of the wheel housing and the fillet plate are to be sealed with cavity sealant.
Refer to → Chapter "Preservation".
Dry sand the cataphoretic primer on the roof adhesive surface -item 6- → Item down to the bare metal using P180 sandpaper. &nb ...
Corrosion on the Fold Edges, for Instance on the Hood, Door or also the Rear Lid Remove the corroded areas with → Chapt ...
Other materials:
Tires, Storing
Storage Room Tire storage must be: Dark, Dry, Cool and Ventilated ...
Warning lamps
Fig. 51 Warning lamp in the instrument cluster First read and observe the introductory information and safety warnings  Lights up or flashes Possible cause Correction The driver and front passenger seat belts are not fas ...
Wheel, Balancing with Fine Balancing Machine (Finish Balancer)
Before beginning balancing, the following requirements must be fulfilled. The tire pressure must be OK. The tire profile must not be worn on one side. The tire profile must be at least 4 mm. ...
© 2016-2018 Copyright www.vwtouran.net