Volkswagen Touran Owners Manual: Checking the electrolyte level of the vehicle battery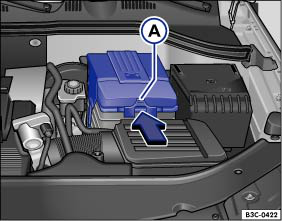 Fig. 179 In the engine compartment: removing the battery cover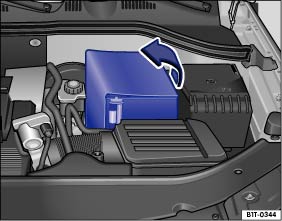 Fig. 180 Engine compartment: pushing up the vehicle battery sleeve

First read and observe the introductory information and safety warnings
The electrolyte level of the vehicle battery should be checked regularly in high-mileage vehicles, in hot countries and in older vehicle batteries. The vehicle battery is otherwise maintenance free.
Vehicles with a start/stop system (  ) are fitted with special vehicle batteries. For technical reasons, it might not be possible to check the electrolyte level in these vehicle batteries.
Preparation
Preparing the vehicle for working in the engine compartment   .
Open the bonnet   .
Opening the battery cover
Depending on the engine fitted to the vehicle, the vehicle battery covers have a different design:
If a cover is fitted: press the tab   in the direction of the arrow and take the cover up and off.
If a sleeve is fitted: fold the cover away to one side  .
Checking the electrolyte level
Ensure that enough lighting is available in order to see the colours clearly. Never use naked flames or glowing items (e.g. cigarettes) as a light source.
The colour display in the round window on the top side of the vehicle battery will change according to the electrolyte level.
| Colour display | Action |
| --- | --- |
| Light yellow or without colour | The electrolyte level of the vehicle is too low. The vehicle battery should be checked and replaced by a qualified workshop if necessary. |
| Black | The electrolyte level of the vehicle battery is correct. |


WARNING
Any work on the vehicle battery can cause serious chemical burns, explosions and electric shocks.
Always wear eye protection and protective gloves.
Electrolyte is very aggressive. It can burn skin and can cause blindness. When working with the battery, protect above all your hands, arms and face from acid spillages.
Never tilt the vehicle battery. Electrolyte may spill out of the battery vents and cause chemical burns.
Never open a vehicle battery.
If acid is spilt in your eye or on your skin, rinse immediately for several minutes with clear water. Then consult a doctor immediately.
If acid is swallowed, consult a doctor immediately.
© 2016-2023 Copyright www.vwtouran.net | 0.0759