Volkswagen Touran Owners Manual: Fitting the rear towing eye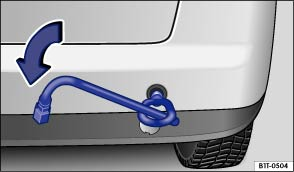 Fig. 228 Rear bumper, right-hand side: screwing in the towing eye

First read and observe the introductory information and safety warnings
The towing eye is screwed into a threaded hole on the right of the rear bumper  . In vehicles with a factory-fitted towing bracket there is no mounting for the removable towing eye behind the cover. To tow start, fit and use the ball coupling   ,  .
Observe the notes on tow-starting   .
Fitting the towing eye at the rear (vehicles without factory-fitted towing bracket )
Take the towing eye and screwdriver out of the tool set in the luggage compartment   .
Insert the flat blade of the screwdriver into the slot between the cover and the bumper or into the side slot.
Carefully lever the cover out to the rear. You may need to use some force to do this. Leave the cover hanging down.
Turn the towing eye anti-clockwise into the threaded hole and tighten as far as possible  . Use a suitable object to screw the towing eye fully and securely into the mounting.
When you have finished towing, turn the towing eye clockwise to remove it and fit the cover.


NOTICE
The towing eye must always be screwed firmly into the mounting. The towing eye could otherwise be ripped out of the mounting when the vehicle is towing/being towed.
Vehicles with a factory-fitted towing bracket must use only tow-bars that are specially designed for fitting to a ball coupling. If you use an unsuitable tow-bar the ball coupling and the vehicle could be damaged. Use a tow-rope instead.
© 2016-2023 Copyright www.vwtouran.net | 0.0723