Volkswagen Touran Owners Manual: Frontal collisions and the laws of physics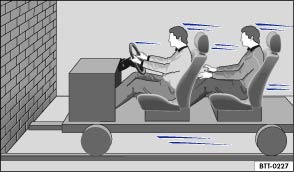 Fig. 52 Passengers of a vehicle heading for a brick wall. They are not wearing seat belts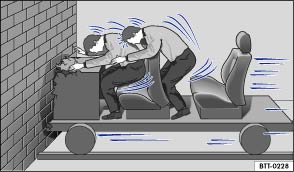 Fig. 53 A vehicle with unbelted occupants strikes the wall

First read and observe the introductory information and safety warnings
The physical principles involved in a frontal collision are relatively simple. Both the moving vehicle   and the passengers possess energy, which is known as kinetic energy.
The higher the vehicle speed and the greater the weight of a vehicle will mean that more energy will have to be released in an accident.
The most significant factor, however, is the speed of the vehicle. If the speed doubles from 25 km/h to 50 km/h (15 mph to 30 mph), for example, the kinetic energy increases by a factor of four.
The amount of kinetic energy depends on the speed of the vehicle and the weight of the vehicle and passengers. The higher the speed and the greater the weight, the more energy there is to be released in an accident.
Passengers not wearing seat belts are not attached to the vehicle. In a frontal collision they will continue to move forward at the speed their vehicle was travelling just before the impact, until something stops it! Because the passengers in our example are not restrained by seat belts, the entire amount of kinetic energy has to be absorbed at the point of impact  .
Even at speeds of 30 km/h (18 mph) to 50 km/h (30 mph), the forces acting on bodies in a collision can easily exceed one tonne (1,000 kg). At greater speed these forces are even higher.
This example applies not only to frontal collisions, but to all accidents and collisions.
© 2016-2023 Copyright www.vwtouran.net | 0.0754