Volkswagen Touran Owners Manual: Stowage areas in the rear floor area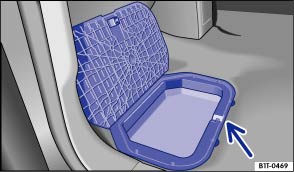 Fig. 117 Stowage areas in the floor area of the second row of seats

First read and observe the introductory information and safety warnings
Place the floor mat (if fitted) to one side.
To open, pull the lid up from the centre   (arrow) at the rear.
To close, press the lid down.


WARNING
Children who are not strapped in or who are not strapped in properly could sustain severe or fatal injuries while the vehicle is in motion.
When using a child seat with a base or support foot, always be sure that the base or support foot is installed properly and securely.
If the vehicle is equipped with a stowage compartment on the vehicle floor in front of the second row of seats, the stowage compartment cannot be used as intended. It must be filled with special accessories so that the base or support foot of the child seat can be supported securely when the stowage compartment is closed, ensuring that the child seat is then properly secured. If the stowage compartment is not secured accordingly in conjunction with a child seat with base or support foot, it could break in the event of an accident, the child could be tossed around and sustain serious injuries.
Read and follow the instructions by the manufacturer of the child seat.
© 2016-2023 Copyright www.vwtouran.net | 0.0429