Volkswagen Touran Owners Manual: Vehicle identification data

Fig. 15 A: Vehicle data sticker: example shows a vehicle with engine code CBFA ③ B: Type plate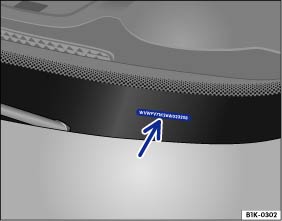 Fig. 16 Vehicle identification number

First read and observe the introductory information and safety warnings
Vehicle identification number
The vehicle identification number can be read from outside the vehicle through a viewer in the windscreen  . The viewer is located on the side in the lower part of the windscreen. In addition, the vehicle identification number is engraved on the top of the right wing in the engine compartment. You have to open the bonnet

to gain access to the vehicle identification number   .
Vehicle data sticker
In the five seater vehicle, the vehicle data sticker   A is located on the left hand side of the luggage compartment floor. In the seven seater vehicle, it is located on the cross panel at the rear on the left in the luggage compartment. It contains the following data:
Vehicle identification number (chassis number)
Vehicle type, engine power, gearbox type
Engine and gearbox code, paint number, interior equipment. In the example, the engine code is CBFA  .
Optional extras, PR numbers
These vehicle data are also contained in the service schedule.
Type plate
The type plate   B can be seen on the lower part of the door pillar when the door is open. Vehicles for certain export countries do not have a type plate.
The type plate contains the following data:
Gross vehicle weight rating
Gross combination weight (vehicle plus trailer)
Gross axle weight rating, front
Gross axle weight rating, rear
© 2016-2023 Copyright www.vwtouran.net | 0.048