Volkswagen Touran Owners Manual: Function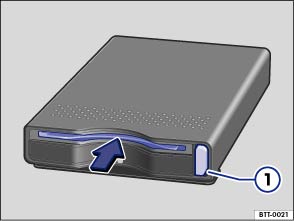 Fig. 126 In the stowage compartment on front passenger side: toll card reader

First read and observe the introductory information and safety warnings
Using the toll card system
Switch on the radio navigation system and insert a suitable ETC card in the toll card reader   (arrow).
The device readiness will be confirmed with a long signal tone and displayed with the symbol ETC in the status bar of the radio navigation system.
Ejecting the toll card
To eject, press the toll card button  .
Error message
If a short series of tones is heard when switching on the device, there is a fault, e.g. no ETC card, or the card is faulty. The toll card system cannot be used.
© 2016-2023 Copyright www.vwtouran.net | 0.0721