Volkswagen Touran Owners Manual: Locking and unlocking the vehicle from inside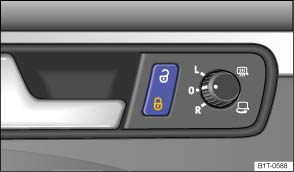 Fig. 23 In the driver door: central locking button

First read and observe the introductory information and safety warnings
Press the button  :
Unlocks the vehicle.
Locks the vehicle.
The central locking button works when the ignition is switched on and when it is switched off.
If the vehicle has been locked with the vehicle key, the central locking button does not work.
Please note the following when using the central locking button to lock the vehicle:
The indicator lamp in the button   lights up.
The deadlock mechanism will not be activated   .
The anti-theft alarm will not be activated.
It is not possible to open the doors or tailgate from the outside, for instance when stopped at traffic lights.
The doors can be unlocked and opened from inside by pulling the door release handle. You may have to pull the door release lever more than once.
If the driver door is open, it will not be locked. This prevents you from locking yourself out of the vehicle.
The vehicle will unlock automatically once the vehicle has come to a standstill and the vehicle key has been removed or the button

is pressed.
© 2016-2023 Copyright www.vwtouran.net | 0.0702