Volkswagen Touran Owners Manual: Wheel cover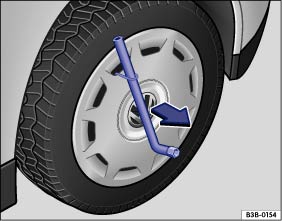 Fig. 204 Removing the wheel covers

First read and observe the introductory information and safety warnings
Removing the wheel covers
Take the box spanner and wire hook from the tool kit   .
Insert the wire hook into one of the holes in the wheel cover.
Push the box spanner through the wire hook   and remove the wheel cover in the direction of the arrow.
Fitting the wheel covers
Before fitting the wheel cover, the anti-theft wheel bolt must be screwed into position   or ③. The wheel cover can otherwise not be fitted.
The wheel covers must be pushed on to the rims with the hole for the valve aligned with the valve  . When fitting the wheel cover, make sure that it engages securely on the entire circumference.
© 2016-2023 Copyright www.vwtouran.net | 0.042