Volkswagen Touran Owners Manual: Filling the tank with petrol or diesel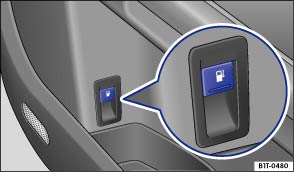 Fig. 168 In the driver door: tank flap release button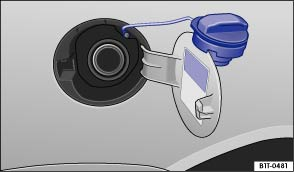 Fig. 169 Open tank flap with tank cap attached to the holder

First read and observe the introductory information and safety warnings
Switch off the engine, ignition, mobile telephone and auxiliary heater before refuelling and leave them switched off during refilling.
Opening the tank cap
Pull the release button up  .
Open the tank flap at the rear right of the vehicle.
Turn the tank cap anti-clockwise to remove it and place it in the holder in the tank flap hinge  .
Refuelling
The correct fuel grade for your vehicle is shown on a sticker on the inside of the tank flap   .
The fuel tank is full, when the properly operated automatic filler nozzle clicks off for the first time  .
Do not continue filling up after it switches off! The expansion space in the fuel tank will otherwise fill up and the fuel could spill out. This could also happen when the fuel warms up and expands.
Closing the tank cap
Turn the tank cap clockwise into the fuel filler neck until you can hear it engage.
Close the tank flap so that it engages audibly. The tank flap must be flush with the vehicle bodywork.


WARNING
Do not continue refuelling once the filling nozzle automatically stops. The fuel tank could be overfilled. This could cause fuel to splash out and overflow. This could cause fire, explosions and serious injuries.


NOTICE
Remove spilt fuel from the vehicle paint as quickly as possible in order to avoid damage to the wheel housing, tyres and vehicle paint.

Split fuel can pollute the environment.
© 2016-2023 Copyright www.vwtouran.net | 0.0606