Volkswagen Touran Owners Manual: Filling the tank with natural gas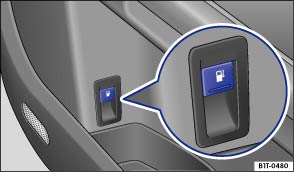 Fig. 170 In the driver door: tank flap release button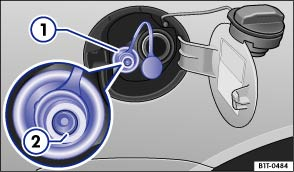 Fig. 171 With the tank flap open: gas filler neck ①, gas filler neck seal ②

First read and observe the introductory information and safety warnings
Switch off the engine, ignition, mobile telephone and auxiliary heater before refuelling  .
Please read and follow the instructions for the natural gas refuelling system.
Opening the tank cap
The gas filler neck is located under the tank flap next to the petrol filler neck.
Pull the release button up  .
Open the tank flap at the rear right of the vehicle.
Refuelling
Remove the cap from the gas filler neck  .
Place the filler coupling for the refuelling system on the gas filler neck.
The fuel tank is full when the compressor for the refuelling system switches off automatically.
To end the refuelling procedure press the stop button on the refuelling system.
Closing the tank cap
Check whether sealing ring   on the gas filler neck has slipped onto the filler coupling. Place the seal back in the gas filler neck as necessary.
Push the cap onto the gas filler neck.
Close the tank flap so that it engages audibly. The tank flap must be flush with the vehicle bodywork.


WARNING
Natural gas is highly explosive and inflammable. Failure to refuel properly with natural gas could result in accidents, serious burns and other injuries.
Lock the fuel filler nozzle correctly before refuelling natural gas. Stop refuelling immediately if you start to smell gas.

The filling couplings for the natural gas refuelling systems can be of various different designs. Please ask for assistance from trained personnel if you are unsure of how to use the system.

Noises which you may hear while refuelling are normal and do not indicate that the system is malfunctioning.

The natural gas system in your vehicle is suitable for use with small compressors (slow fill) and large compressors (fast fill).

Things to note: At very high ambient temperatures, the overheating protection function for the natural gas refuelling system could switch off automatically meaning the normal capacity will not be achieved.
© 2016-2023 Copyright www.vwtouran.net | 0.049