Volkswagen Touran Owners Manual: Manual gearbox: selecting a gear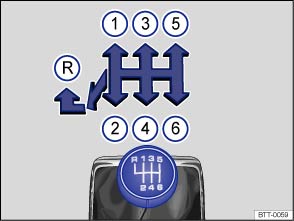 Fig. 131 Gear shift pattern of a 6-speed manual gearbox

First read and observe the introductory information and safety warnings
The positions of the individual driving gears are shown on the gearshift lever  .
Fully depress and hold the clutch pedal.
Move the gearshift lever to the required position  .
Release the clutch to engage.
In some countries, the clutch pedal will have to be depressed fully in order to start the engine.
Selecting the reverse gear
The reverse gear should only be selected when the vehicle is stationary.
Fully depress and hold the clutch pedal  .
Shift the gear stick to the neutral position and push down.
Push the gearshift lever fully to the left and then to the front in the reverse gear position  .
Release the clutch to engage.
Shifting down
You should always select the next immediate gear when shifting down gear whilst the vehicle is in motion. The engine revs should not be too high when doing this  . Damage to the clutch and the gearbox could occur if at high speeds or high engine revs one or more gears are skipped when shifting down gear, even if the clutch is not released when doing this  .


WARNING
When the engine is running, the vehicle will start to move as soon as a gear is engaged and the clutch released. This also applies when the handbrake is on.
Never engage reverse gear while the vehicle is in motion.


WARNING
Shifting gears incorrectly to a lower gear can lead to a loss of control over the vehicle, with accidents and/or serious injuries as a consequence.


NOTICE
Serious damage to the clutch and gearbox could occur if the gear stick of the manual gearbox is shifted to a gear which is too low when travelling at high speeds or at high revs. This also applies if the clutch remains depressed and the gears do not engage.


NOTICE
Please note the following points in order to avoid damage and premature wear:
Do not rest your hand on the gear lever when driving. The pressure from your hand is passed onto the selector forks in the gearbox.
Ensure that the vehicle has come to a full stop before engaging reverse gear.
Always fully depress the clutch pedal when changing gear.
Do not hold the vehicle by riding the clutch on a hill with the engine running.
© 2016-2023 Copyright www.vwtouran.net | 0.0916