Volkswagen Touran Owners Manual: Pedals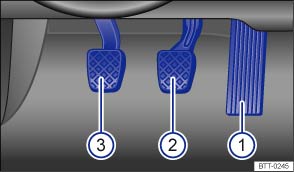 Fig. 129 Pedals in vehicles with a manual gearbox: ① accelerator, ② brake pedal, ③ clutch pedal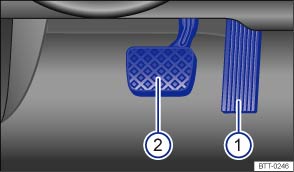 Fig. 130 Pedals in vehicles with an automatic gearbox: ① accelerator, ② brake pedal

First read and observe the introductory information and safety warnings
The operation and freedom of movement of all pedals must never be impaired by objects or floor mats.
Use only those floor mats which leave the pedal area free and can be securely fastened in the footwell.
If a brake circuit fails, you will have to depress the brake pedal further than normal in order to bring the vehicle to a stop.


WARNING
Items in the driver footwell could hinder pedal operation. This could lead to loss of control over the vehicle and increase the risk of serious injury.
Please ensure that all pedals can always be used without any hindrance.
The foot mats must always be properly secured in the footwell.
Additional foot mats or other floor coverings should never be placed over the fitted foot mat.
Ensure that no objects can enter the driver footwell while the vehicle is in motion.
If there are any objects in the footwell, remove them when the vehicle is parked.


NOTICE
Free access to the pedals must be ensured at all times. For example, the braking distance to fully stop the vehicle will be longer if a braking circuit is faulty. The brake pedal will have to be depressed further and harder than normal.
© 2016-2023 Copyright www.vwtouran.net | 0.0476