Volkswagen Touran Owners Manual: Seat heating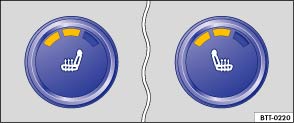 Fig. 48 In the centre console: controls for the front seat heating, set here to the second heating level

First read and observe the introductory information and safety warnings
The seat cushions can be heated electrically when the ignition is switched on. In some versions, the backrests may also be heated.
Switch off the seat heating if the seat is not occupied.
| Function | Action   |
| --- | --- |
| Switching on: | Press button. Seat heating is switched on at the highest setting. All indicator lamps light up. |
| Adjusting the heating output: | Press the button repeatedly until the heating level is set. |
| Switching off: | Press the button until the indicator lamps in the button go out  . |


WARNING
Those persons who, due to their medication, paralysis or chronic illness (e.g. diabetes), suffer from reduced sensitivity to pain or temperature, could sustain burns on the back, buttocks and legs when using the seat heating. These burns may take a long time to heal or may never heal fully. Please go to a doctor to determine your own level of health.
People who have reduced sensitivity to pain or heat must never use the seat heating.


NOTICE
To avoid damaging the heating elements, do not kneel on the seat or apply sharp pressure at a single point on the seat cushion and backrest.
Liquids, sharp objects and insulating materials on the seat could damage the seat heating system.
If the system starts to emit a smell, switch the seat heating off immediately and have it checked by a qualified workshop.

The seat heating should be switched off when it is no longer needed. Fuel is wasted otherwise.
© 2016-2023 Copyright www.vwtouran.net | 0.0941