Volkswagen Touran Owners Manual: Tyre lettering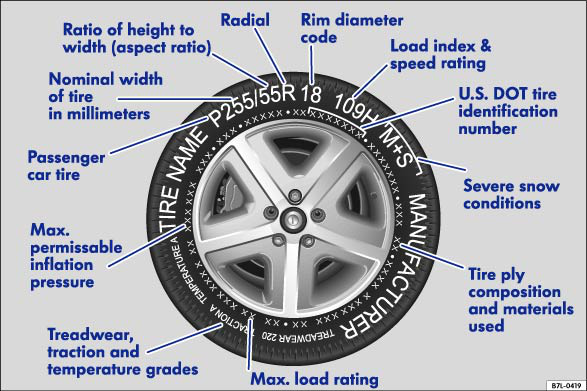 Fig. 187 International tyre lettering

First read and observe the introductory information and safety warnings
Tyre lettering (example)
Meaning
Brand name, logo
Manufacturer
Product name
Individual tyre lettering from manufacturer.
P215 / 55 R 18
Size designation:
P
Identification for passenger vehicle.
255
Tyre width from wall to wall in mm.
55
Height/width ratio in %.
R
Tyre construction: radial.
18
Rim diameter in inches.
109 H
Load capacity index   and speed index   .
XL
Heavy-duty tyres (reinforced).
M+S or M/S or
Denotes winter tyres (mud and snow tyres)   .
RADIAL TUBELESS
Tubeless radial tyres.
E4 ...
Certification of conformity with international requirements. The number following (E) is the code number of the country which granted approval. This is followed by the number of the type approval certificate.
DOT BT RA TY5 1709
Tyre identification number (TIN a) – may be on the inner side of the wheel) and manufacturer date:
DOT
The tyre complies with the legal requirements of the USA Department of Transportation, responsible for tyre safety standards.
BT
Code identifier of the factory that manufactured the tyre.
RA
Tyre manufacturer's data on tyre size.
TY5
Manufacturer's tyre characteristics.
1709
Manufacture date: 17th week in 2009.
TWI
Indicates the position of the Tread Wear Indicator   .
Made in Germany
Country of manufacture.
MAX LOAD 615 KG (1356 LBS)
US load data for the maximum load per wheel.
MAX INFLATION 350 KPA (51 PSI)
US limitation for the maximum air pressure.
SIDEWALL 1 PLY RAYON
Data for the components of the tyre sub-construction:
1 layer of rayon (artificial silk)
TREAD 4 PLIES
1 RAYON + 2 STEEL + 1 NYLON
Data on the tread surface components:
In the example there are four layers under the tread surface: 1 layer of rayon, 2 steel belt layers and 1 nylon layer.
Information for the end user concerning comparative values for specified basic tyres (standardised test procedure)   :
TREADWEAR 220
Relative life expectancy for the tyre, with reference to a US-specific standard test.
TRACTION A
Wet braking response of the tyre (AA, A, B or C).
TEMPERATURE A
Temperature stability of the tyre at higher test speeds (A, B or C).
Any other characters are internal codes used by the tyre manufacturer or are country-specific codes, e.g. for Brazil or China.
Tyres with directional tread pattern
Tyres with directional tread pattern have been developed to roll in one direction only. An arrow on the tyre sidewall indicates the direction of rotation on tyres with directional tread. The direction of rotation must be adhered to. This guarantees optimum grip and helps to avoid aquaplaning, excessive noise and wear.
If, however, the tyre is fitted in the opposite direction to the tread pattern, you must take more care when driving as the tyre is now no longer being used according to its designation. This is particularly important on wet roads. The tyres must be replaced as quickly as possible or be fitted with the tread in the correct direction.
Tyre load
The load capacity index indicates how many kilograms can be loaded onto an individual tyre (tyre load).
91 615 kg 93 650 kg 95 690 kg 97 730 kg 99 775 kg
Speed index
The speed index indicates the maximum permitted speed that may be driven when particular wheels are fitted.
P max. 150 km/h (93 mph) Q max. 160 km/h (99 mph) R max. 170 km/h (106 mph) S max. 180 km/h (112 mph) T max. 190 km/h (118 mph) U max. 200 km/h (124 mph) H max. 210 km/h (130 mph) V max. 240 km/h (149 mph) Z over 240 km/h (149 mph) W max. 270 km/h (168 mph) Y max. 300 km/h (186 mph)
Some tyre manufacturers use the code ZR for tyres with a highest permitted speed of over 240 km/h (149 mph).
a) The TIN is the tyre serial number.
© 2016-2023 Copyright www.vwtouran.net | 0.0483